SAMEE launches its latest RM140mil manufacturing plant in Bukit Minyak
INTERNATIONAL Trade and Industry Minister Datuk Ignatius Darell Leiking has lauded the Penang government for being able to bring in quality investments to the state.
"Penang has been a great state in welcoming investments. States in Malaysia should learn how Penang has created this ecosystem, its chain of supplies and manufacturers.
"I am sure the Chief Minister of Penang will welcome the other states to learn how the state government has managed it all this while," he told a press conference before jointly opening SAM Engineering & Equipment (M) Bhd's new manufacturing plant at Penang Science Park in Bukit Minyak today.
He also spoke on the effects of trade war between the United States and China on Malaysia.
"While we are aware of the trade war between the United States and China, we should not take advantage of it.
"I understand that both countries are trying to work it out. We should encourage them to work it out because whatever decision they make, it affects the world.
"Unfortunately, it affects everyone and Malaysia is not safe from it," he said.
Ignatius said Malaysia has its own ecosystem and businesses continued to prosper in Malaysia despite the trade war.
"We have been doing business with the United States and China. Whatever products that are made in Malaysia will not be subjected to their tariff war," he said.
He said while most countries were facing shifts in investment, technology and the way they do business, Malaysia remained strong.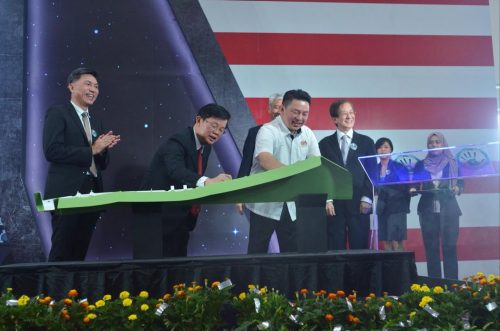 SAM Engineering & Equipment (M) Bhd (SAMEE) chairman Tan Kai Hoe said SAM started in Malaysia through the acquisition of LKT Industrial Berhad back in 2008.
"Two years later, we invested RM30 million in our very first aerospace facility in Bayan Lepas, Penang, to produce aero-engine fan cases.
"Since then, we have transformed SAMEE's business from a semiconductor back-end business, to the high entry-barrier sector in the semiconductor front-end and aerospace sector.
"Today, SAMEE has a revenue of about RM600 million and a market value of RM1 billion. About 60% of SAMEE's revenue comes from the aerospace sector.
"This new facility, which produces nacelle structures for the Airbus A320neo and the A350 aircraft, will put SAMEE in good stead to continue to grow our aerospace business," he said.
Chief Minister Chow Kon Yeow congratulated SAMEE for being among the most notable players in the aerospace manufacturing industry in Penang and Malaysia.
"Penang continue to maintain its robust economic growth. The manufacturing and services sectors are the twin engines of growth in Penang.
"In 2017, the manufacturing sector grew by 5.7% year-on-year.
"Penang also recorded MIDA approved manufacturing investments of RM3.8 billion from January to September last year despite the growing global macroeconomic challenges of trade war and rising protectionism.
"The state's diversification into fast growing sectors such as avionics and medical devices has continued to strengthen its value proposition to investors," he said.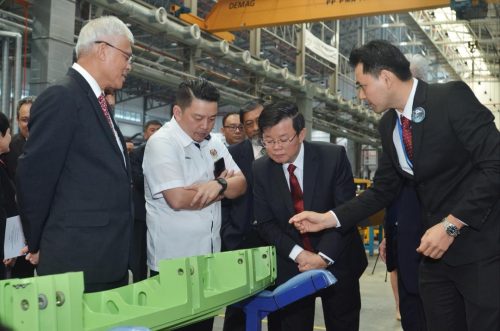 Chow said that the state was excited with SAMEE's latest facility in Bukit Minyak.
"I was informed that this 145,000sq ft facility has an investment value of RM140 million," he said.
Chow added that the aerospace manufacturing industry is an important economic agenda for Malaysia, and Penang's involvement in the industry is synergetic with the Penang2030 action plan.
"The Penang2030 action plan is to uplift our people towards higher income and higher value jobs," he said.
Also present were Singapore Aerospace Manufacturing Pte Ltd (SAM) chairman Philip Yeo and chief executive officer Jeffrey Goh.
Chow, Ignatius and the VIPs also toured the facility before being treated to a sumptuous lunch.
Story by Christopher Tan Pix by Noor Siti Nabilah Noorazis Video by Darwina Mohd Daud
source from Buletin Mutiara
#Penang2030 #SAMEE #BukitMinyak #PenangSciencePark #Aerospace #BayanLepas #Penang