Bruker set for opening of Bayan Lepas plant
BRUKER (Malaysia) Sdn Bhd will hold an official grand opening of its 25,000sq ft plant in Bayan Lepas on Sept 24.
Deputy Chief Minister I Datuk Ahmad Zakiyuddin Abdul Rahman will represent Chief Minister Chow Kon Yeow at the opening ceremony which will also be graced by Bruker Corporation chairman, president and chief executive officer Dr Frank H. Laukien.
Bruker site/operations director S. Soundarajan told Chow during a courtesy call at the latter's office in Komtar today, said his company hires a highly-skilled workforce.
Since late last year, he said Bruker has sent 15 engineers for highly-skilled training in Germany and the United States for three months.
"It will be a regular feature for our engineers to be sent abroad for retraining. Eighty percent of our technical staff are vocational trained technicians and engineers. We've different products that require different expertise," Soundarajan said.
Also present were Bruker Penang human resource manager J. Shanthi and investPenang manufacturing development head Lee Yoeu Chek and manufacturing development lead Ang Kit Sin.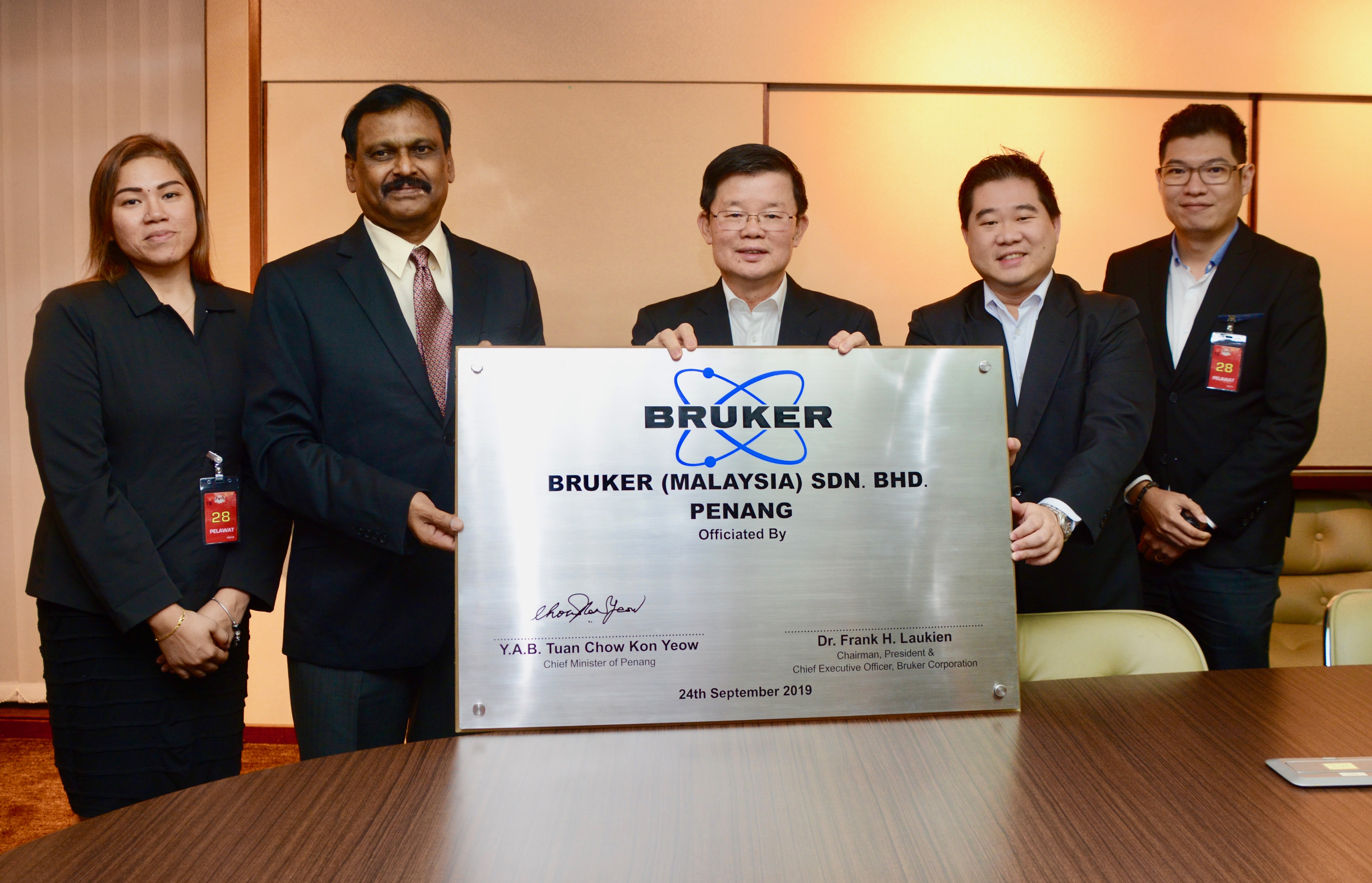 Chow, who signed on the plaque that was brought to his office today, will be away on an official trip during the opening ceremony of the plant. He also enquired about Bruker Penang's operations and plans.
He believes upscaling the training for the engineers would no doubt be a good investment by the company.
The Bruker Penang facility, which hires about 70 employees, is Bruker's first manufacturing facility in Asia. It began operations in October 2018.
The high-tech products manufactured at this facility include optical and stylus profilometers, tribometers, X-ray diffraction tools, X-ray fluorescence instrumentation, optical emissions spectrometers, and combustion gas analysers.
Bruker is a leading provider of scientific instruments.
Today, more than 6,000 employees are working to build upon Bruker's extensive range of products and solutions, at over 90 locations worldwide.
For more than 55 years now, Bruker has been enabling scientists and manufacturers to make breakthrough discoveries and develop new applications and products that improve the quality of human life.
source from: Buletin Mutiara